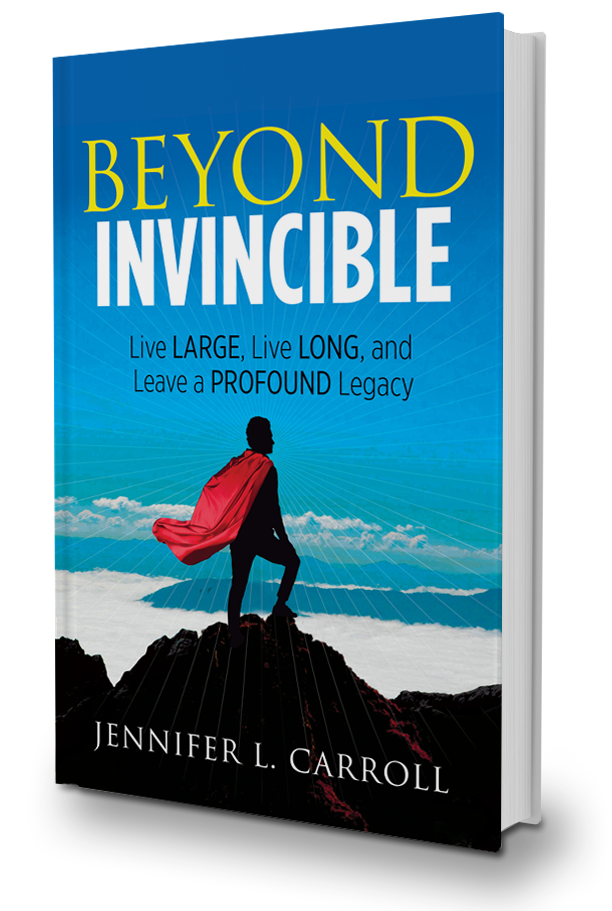 Welcome aboard the Beyond Invincible bus. You're about to embark on an incredible journey.
This journey has two distinct parts. In Part One, I'm going to introduce you to Phillip Carroll, a rock-star entrepreneur. You'll find out how he made his first million at the age of twenty-five and how he rode the highs and lows of the entrepreneurial roller coaster with great success.
You'll hear about our epic love affair and how he convinced me to say, "I do." You'll learn about the extraordinary family known as the Christmas Carrolls, and how great tragedy can bring great wisdom and perspective on living and dying. Phil and his family learned these tough life lessons many times over with people far too young and graves dug far too soon.
You'll learn the secrets of surviving and thriving in a long-term relationship with an entrepreneur. No marriage is perfect, but ours was remarkable for twenty-two years. I'll take you along with us as we traveled the world with our friends and family, and you'll learn how the most important things in life are not what you do but who you do it with.
And I'll share with you some of the parenting philosophies that helped guide our children to their own early success as young adults: our son, Austin, as a professional hockey player, and our daughter, Jessica, as a YouTube influencer and red-carpet reporter.
If you are an entrepreneur, you will probably identify with my late husband, Phil Carroll, even recognize yourself in him. You most likely have—or want to have—that same invincible entrepreneurial spirit. Yet Phil was stopped by prostate cancer at the age of fifty-two. This horrible disease slowly took Phil's manliness, his strength, his voice, his breath, and ultimately his life. My hope is that this is where your path will be much different from his—much longer.
And that leads us to the second part of the journey. In the first part, you get to settle in and watch the movie of our lives before cancer. But the second part isn't about the movie of Phil's life; it's about the movie of yours.
In Part Two, I share the lessons Phil taught us living while dying, which we came to call our Phil-osophies of life. My hope in sharing them is that you will come to appreciate that you are the star of your own movie. You are the hero of your own book.
If you met your end tomorrow, and your significant other was about to speak to a room full of your peers, or decided to write a book about your philosophies of life, what would your special person say? What would your story be? What role would you play in the movie of your life?
You may be wondering, "What on earth could this grieving widow possibly share with me that could make a difference in my life or the lives of the people I love?"
Good question. Now I have a question for you: Do you want to be beyond invincible?
Eventually, we're all going to die. If we've had a birth-day, we're going to have a death-day carved on our tombstone. But what about the dash in the middle? How do we live that dash to leave our legacy?
I'm talking about the kind of invincible that will allow you to push that death date as far into the future as possible. I'm talking about the kind of invincible that will allow you to watch your daughter walk down the aisle at her wedding, the kind of invincible that will allow you to watch your son live out his dream, and the kind of invincible that will give you a chance to grow old with the person you love.
Do you want to be that kind of invincible?
Ninety-six percent of men survive prostate cancer, but Phil didn't. Although he was only forty-seven when he was diagnosed, he had waited too long. The truth was that Phil was not proactive about his health. He didn't believe in going to the doctor.
That means we learned one of the most important Phil-osophies of life only after Phil was gone: get checked.
Phil might not have been as invincible as he thought. But you can be truly invincible if you apply these Phil-osophies to your life and share them with the people you love. You can not only live large, but live long—and leave a profound legacy.
So, jump aboard and take a seat. I know you're going to enjoy the ride. I sure did.