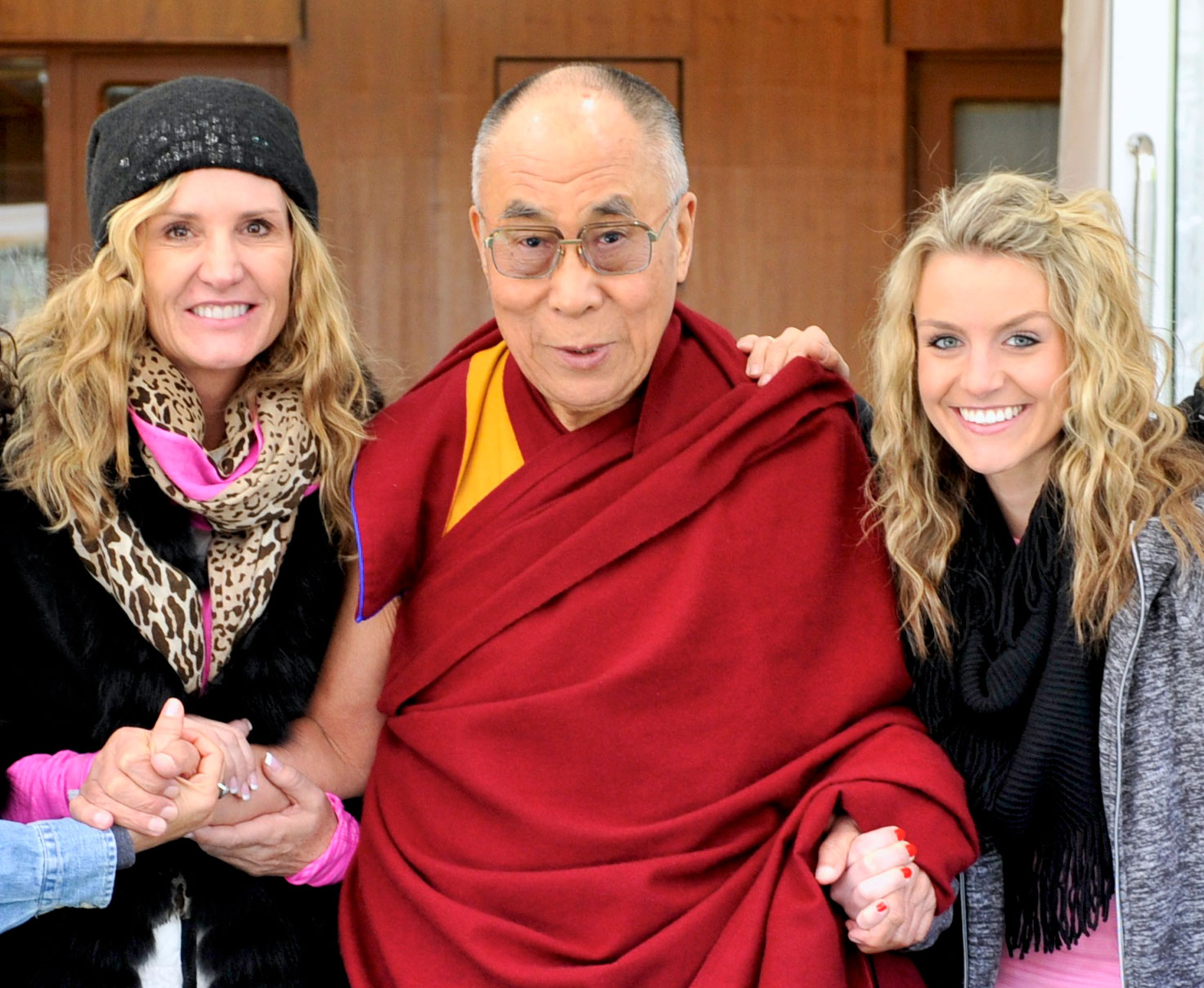 Jessica and I were traveling to Dharamsala, India, a small Buddhist town on crest of the Himalayan mountains and home of the Dalai Lama. We were in a taxicab winding up to the hilltop village in hopes of meeting his Holiness. I remember feeling as though with every turn were travelling back in time. One hundred years around each bend. The van we were in was so broken down it felt at any moment it might bottom out. I prayed the brakes would hold up until we make it to the top. The traffic was three lanes deep with and the shoulder was a steep cliff that didn't appear to rattle our driver whatsoever as he continued to meander up the rocky mountain road. Despite my anxiety I noticed that everyone around me was calm; this was commonplace for them. Stuck in traffic on a rough road covered in crater-sized potholes, winding their way up to their ashram.
Suddenly, I heard the slight sound of a bell. It was a bike bell. How could that be, on this road that was barely drivable by vehicles? As I looked into the rearview mirror on the passenger side of our van, what I saw peddling towards us was in fact a bike. A vintage 3-gear pedal bike driven by a young head-shaven boy wearing a golden robe tucked in around his legs. I watched as this boy strained with every turn of his wheel to maneuver his bike through the maze of holes and rocks, cliffs and cars. I was humbled by his determination and strength, and then he did something that opened my eyes even further—to one of life's great lessons.
Panting, pushing, with sweat pouring down his brow, I watched as he carefully yet strategically reached out to the open window of our van and held on. Riding right beside me, he glanced at us, then back at the dirt road, and exchanged a few words with our driver, still panting. They both smiled and nodded in agreement to their exchange, and we carried on up the hill with one more passenger. I too smiled at the young monk cyclist as we carried him almost effortlessly up to his destination.
I find myself thinking about that literal scenario often as I figuratively meander up the rough pot-holed road of recovery from loss. So challenging and exhausting, so many obstacles in the way, sometimes seeming like an impossible journey. I recognized, as did that young boy, that in life during the tough times sometimes all we need to do is reach out for help and just hold on and share the ride. We are not alone on this upward journey of life; we can always look up and find hope and guidance. I have come to appreciate that I am never alone, that my family and friends are always driving beside with a smile, willing to let me hold on to them whenever the road gets too rough and rugged.
I am so grateful to all the people in my life who have been there to love and support me on this journey and let me hold onto them through the rough patches.